Educating others in the way of historic preservation is a passion for Vintage Window Restoration. Whether it is a two week field school or a one hour classroom presentation, we seek out opportunities to share knowledge with homeowners, government personnel, contractors, realtors, students and anyone else that has an interest in the craft.
A great workshop approach for Historic Landmark Commissions is the one day May historic preservation month educational workshop oriented to homeowners that wish to repair their windows on their own, but need the initial budge to become inspired. Our format has been refined over the years to a well rounded experience for the homeowners.
Our typical format is we begin the morning with coffee, treats, housekeeping, introductions, and informational handouts and other agencies present, such as your City Landmarks Committee, City Planners, and State Historic Preservation Officers. This is a great start to the morning that has everyone on the same page as well sharing their background in windows to "break the ice" creating the beginning of community development.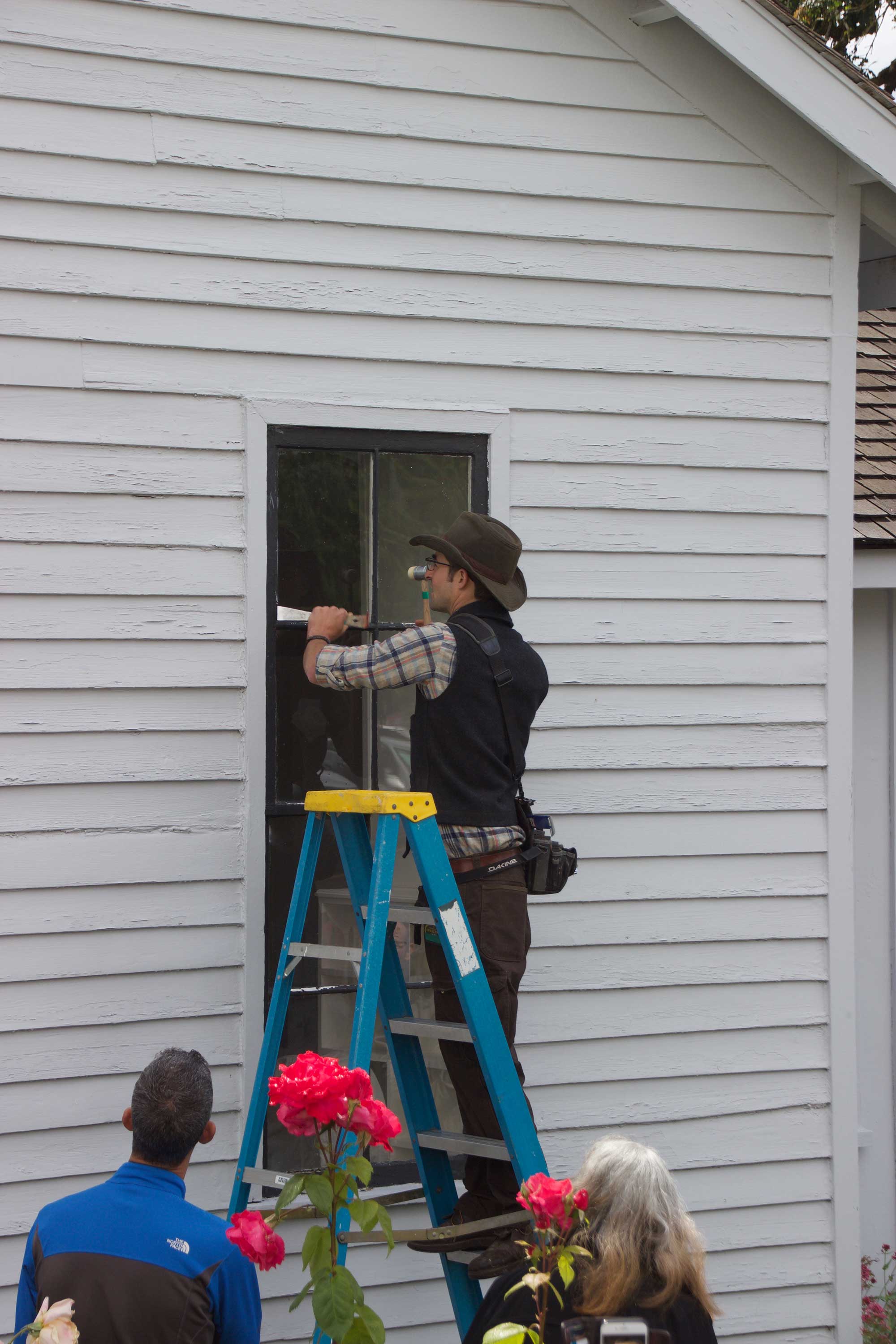 Once everyone's talk is through, we head out to our actual project where we cover the numerous parts of a window, work space set-up, a bit of history, some random questions, and work our way to gently removing the bottom sash of a window. Eventually lunch arrives and everyone sits and talks and Vintage Window Restoration's team wanders to answer anyone's questions.
Foundational tools and materials are put up for sale with more of our business contact information in case students wish to have us visit their homes. After meal time, everyone is back at it until the end of the day and everyone departs with a new attitude and motivation for fixing their windows. Typically for a one day workshop, homeowners and hobbyists learn all of the foundational processes to make minor repairs to their windows, develop a sense of ownership of their home and create a relationship with city officials and other homeowners that they would other wise not meet. A one day workshop is a great approach to have homeowners scratch the surface of their windows.
If you feel a window workshop in your town is needed to help community members become more engaged and preserve the neighborhoods historic stock without the greater logistics and expense of a multi-day class, a one day workshop is a fun and informative way to go. Besides education and training, we are capable of saving and repairing wood windows, manufacturing custom storm sash and wooden screens and repairing any siding and trim around your windows. We are your one stop shop for historic windows, doors and facade!
Contact Vintage Window Restoration for all your window needs.