Quickly becoming one of our favorite products, our hand built, custom made wooden storm windows have been providing comfort and safety to numerous homes in Oregon. The storm window acts as the primary barrier to air infiltration  (the #1 leading cause to a windows heat loss), and creates an insulation space to reduce heat transfer through the glass. The Storm Window also acts as a protective barrier from the elements as well outdoor noise pollution.
All of our past clients have mentioned primarily that their rooms felt more comfortable, the windows stopped "leaking like sieve", and the outside noise was greatly reduced creating a more intimate space while keeping the original look of the house. During the summer months, if we are passing by, we will notice at times our storm windows are propped open to let in the fresh air thanks to a specialized hardware system that has recently been brought back into production.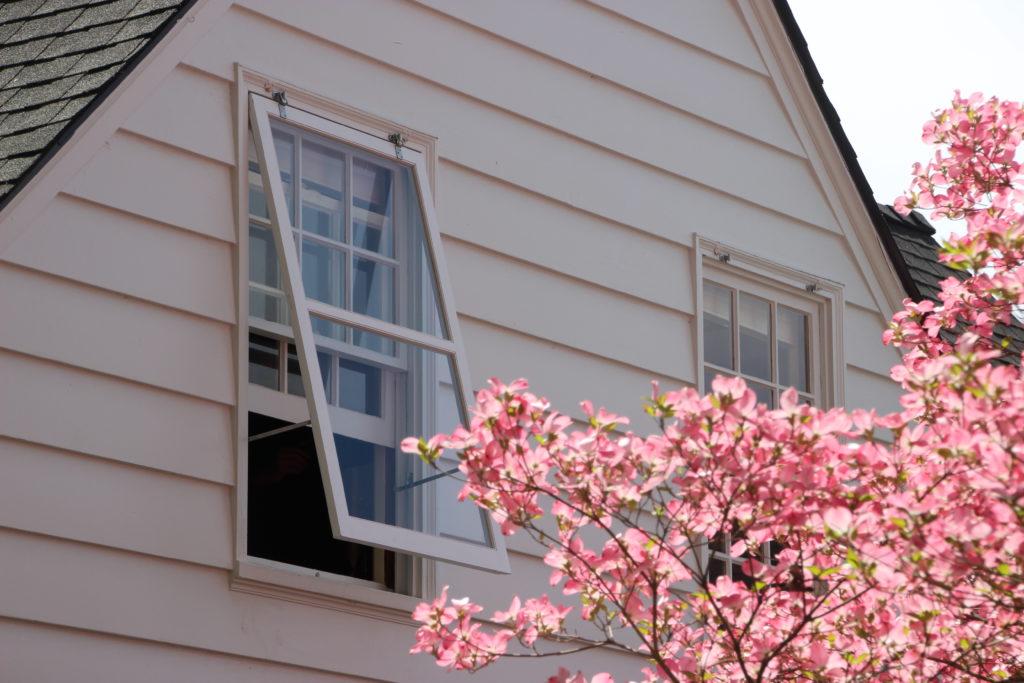 Our curiosity is always how they perform in keeping your restored or new reproduction windows safe from the elements and how long they last. We visited one of our earliest projects and were pleasantly surprised to see the windows looking in almost brand new condition! The paint never showed signs of fading or wear, dirt and debris was minimal and the wooden storm windows were standing in excellent shape due to our marine grade exterior preservative system. We compared this to windows we restored and painted but without having our storm windows and the difference was noticeable.
We manufacture each Storm Window based on the opening that will receive it, we do not simply mass produce frames and "fly blind" in fitting them in. Each storm window frame has a number tack if you choose to remove them for the summer months and install our Custom Built Wooden Screens, all with the intention of making re-install a breeze. The frame hanger and operators are made of brushed stainless steel to resist corrosion in our climate and for aesthetics. Our wood is purchased through a local mill and each piece of wood hand selected for it's specific grain characteristics. The glazing is tempered glass with traditional wooden glass beads with a silicone sealant. What really sets us apart from other storm window builders is our method of construction. We use traditional machinery made in America to build an authentic storm window as it would have been built a century ago.  These traditional frames include the authentic mortise and tenon joinery, the decorative profiles, a wood thickness to handle any storm, but with the grace and elegance in performance. 
If you have read our other webpage that describes "Wood Storm Sash", you will notice a lot of similarities and that's because they are the same product. We have over time found people using our product with different names, storm sash, storm window, storms, the frames that go on the outside, you name it, we have heard many variations.
At Vintage Window Restoration we believe in building products that will last a lifetime to help protect and serve our historic buildings and our heritage for future generations to admire and reflect. Please call us today or inquire through our "reserve a consultation". Thank you for visiting us!